Your one-stop certification solution!
What is WPC Certification for India?
The Indian WPC certification was introduced for consumer protection and is a radio license regulating control approval. WPC stands for Wireless Planning & Coordination, which is the national broadcasting authority in India and is part of the Ministry of Communications and Information Technology. It was established in 1952 and is headquartered in New Delhi, with additional regional offices in Mumbai, Chennai, Kolkata and Guwahati.
The main tasks of the WPC are to issue radio licenses and to allocate and monitor the frequency spectrum.
In addition, WPC is responsible for WPC Equipment Type Approval (ETA) certification and other radio approvals.
Approvals issued by WPC include:
Equipment Type Approval (ETA)
Type Approval
Experimental Approval
Dealer and non-Dealer Possession Licenses (DPL and NDPL)
Import license for the import of radio equipment
Which Products Require WPC ETA Approval?
WPC approval is mandatory in India for all wireless devices, such as those using WiFi, ZigBee, Bluetooth, etc. Some of the products subject to WPC India can be found in the following categories:
Antennas
Receiver
Transmitter
Transceiver
Radio devices
Etc.
For a detailed overview of products requiring certification, please refer to our list of WPC relevant components.
Manufacturers must find out in advance exactly which frequencies they are allowed to use. Only frequencies on unlicensed bands are allowed. Also, the frequency ranges can not exceed the specified limits under any circumstances.
WPC Certification Process
Preparation of the application documents
RF tests in an accredited laboratory in India
Application through submission of documents and test reports
Issuance of the certificate through WPC

The WPC certification process is relatively simple compared to other types of certification and can usually be completed within 1 to 2 months. RF (Radio Frequency) test reports must be submitted after registration. These tests must have been performed by an accredited testing laboratory. Previously it was possible to have the tests performed abroad and submit the corresponding test reports. However, since the beginning of 2021 foreign test reports are no longer accepted and tests must be carried out in India. A factory inspection is not required for the WPC (ETA) approval.
New WPC licenses must be issued in the event of product changes!
A WPC license is valid for the entire product lifetime. In the event of a product change, a new WPC India license must be applied for.
Product changes requiring a new WPC:
Change to the product configuration
Change to the structure of the product (e.g. adding another wireless module)
Changes to a core "Key Component" (e.g., a wireless component)
It is also possible that an update to the WPC regulations means that your license will be required to be updated to new standards or regulations. Hiring a service provider to inform you of changes can be very helpful in maintaining compliance.
Marking the WPC Approval
Products that have WPC ETA approval are not subject to any special marking requirements.
AIR (Authorized Indian Representative)
The application for WPC certification must always be submitted by an
Authorized Indian Representative (AIR). The AIR is a representative in India authorized by the manufacturer who will act as a contact for the authorities and is responsible for submitting applications.
MPR Services
Your One-Stop Certification Solution.
Our complete package for product certifications for India.
Clarification of the certification requirements of your products
Communication with the authorities
Provision of the mandatory local representative (AIR Authorized Indian Representative)
Handling of product testing in India
Information about product-specific regulation changes
Contact us!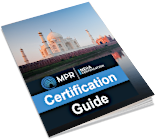 MPR India Certification – expert consulting and implementation of certification projects worldwide.
WPC Certification Overview
| | |
| --- | --- |
| Validity of the certificate | Lifetime of the product |
| Certification duration | Typically 4-8 weeks |
| Marking | No specific marking requirements |
| Tests required? | Yes |
| Factory audit required? | No |
| Representative in the country | AIR (Authorized Indian Representative) required |
| Follow-Up Process | Not required |
WPC FAQ
How do I know if my products need WPC registration?
Most wireless products that can receive and transmit signals require WPC. This includes devices that use Bluetooth and WiFi technology, cell phones, tablets, laptops, smartwatches and their accessories.
How long does the WPC ETA registration process take?
The certification period is usually 1-2 months.
How long is the WPC certificate valid?
The WPC ETA license does not lose its validity. It remains valid as long as the product does not change.
What is the best way to prepare for WPC ETA Certification?
Radio Frequency (RF) tests are required for the license. We recommend to check the relevant product standard and familiarize yourself with the Indian regulations.
Which plants need to be audited?
An audit is not required for the WPC ETA license.
How do I need to mark my products after certification?
There are currently no specific product labeling requirements for WPC ETA-approved products.
Do authorities inform WPC certificate holders about changes in the regulations?
No. Information is provided in English on the Wireless Planning & Coordination Wing website. Companies are required to keep up to date with current regulations and changes themselves. Hiring a consulting firm to monitor changes is the simplest option to maintain continued compliance.
WPC CERTIFICATION VIDEO
Please enable cookies to enable embedded YouTube videos. For privacy-related details on data exchange through use of the videos as well as changeable cookie settings, please see the privacy policy page.